GODSPELL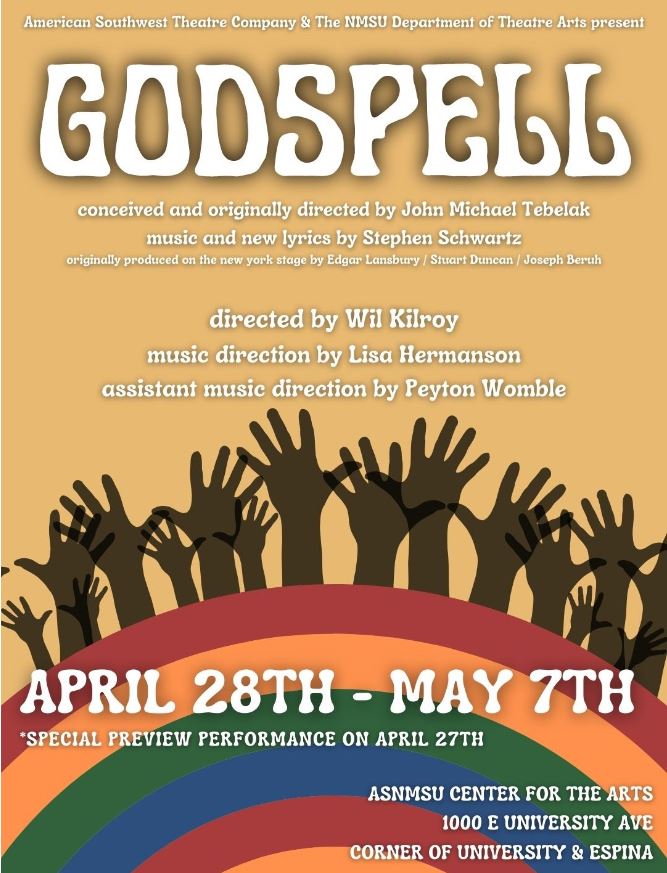 A small group helps Jesus Christ tell different parables using various games, storytelling techniques, and hefty doses of comic timing. An eclectic blend of songs, from pop to vaudeville, is employed as the story of Jesus' life dances across the stage. Messages of kindness, tolerance, and love come vibrantly to life.
Deadline to sign up:
Monday, April 24, 2023 at 5:00 PM
When:       
Thursday, April 27, 2023 at 5:30 PM
Friday, April 28, 2023 at 7:30 PM
Saturday, April 29, 2023 at 7:30 PM
Friday, May 5, 2023 at 7:30 PM
Saturday, May 6, 2023 at 7:30 PM
Sunday, May 7, 2023 at 2:00 PM
Where:      
ASNMSU Center for the Arts, 1000 University
Sign up for your free ticket below!
*** FREE TICKETS FOR TRIO SSS PARTICIPANTS ONLY***
After you have attended a Cultural Event, please complete the form below to get TRIO credit for the event.